Hollywood, FL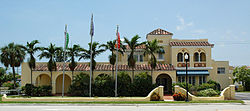 Hollywood is a city in Broward County, Florida. As of 2013 Hollywood has a population of 146,526. Founded in 1925, the city grew rapidly in the 1950s and 1960s, and is now the twelfth largest city in Florida. Hollywood is a principal city of the South Florida Metropolitan Area, which was home to 5,564,635 people at the 2010 census.
Joseph W. Young founded the city; he dreamed of building a motion picture colony on the East Coast of the United States and named the town after Hollywood, California. Young bought up thousands of acres of land around 1920, and named his new town "Hollywood by the Sea" to distinguish it from his other real estate venture, "Hollywood in the Hills", in New York. After the 1926 Miami hurricane, Hollywood was severely damaged; local newspapers reported that Hollywood was second only to Miami in losses from the storm.
Hollywood is a planned city. On Hollywood Boulevard is the Mediterranean-style Joseph Young Mansion, built around 1921, making it one of the oldest houses in Hollywood.