Jacmel, Haiti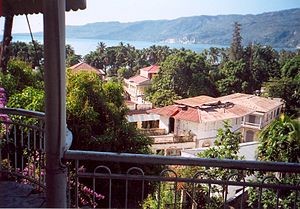 Jacmel, (Haitian Creole: Jakmèl; Spanish: Yáquimo) is a commune in southern Haiti founded by the Spanish in 1504 and repopulated by the French in 1698. It is the capital of the department of Sud-Est and has an estimated population of 40,000, while the municipality (commune) of Jacmel had a population of 137,966 at the 2003 Census. The town's name is derived from its indigenous Taíno name of Yaquimel.
The city has well-preserved historical French colonial architecture that dates back from the early nineteenth century and has little changed. The town has been tentatively accepted as a World Heritage site and UNESCO reports that it has sustained damage in the 2010 Haiti earthquake.
The port town is internationally known for its very vibrant art scene and elegant townhouses dating from the 19th century. Among the wealth of art and crafts available in Jacmel are the papier-mâché, done by nearly 200 artisans and the reknow Atelier created by Moro Baruk. In recent years Jacmel has been host to a large film festival, the 'Festival Film Jakmèl', started in 2004, and in 2007 the international music festival 'Festival Mizik Jakmèl' was successfully launched. Its carnival, the nearby Bassins Bleus (Haiti's most famous natural deep water pools), and the scenic white sand (Timouillage, Cabic, Raymond-les-bains located in Cayes-Jacmel mostly) beaches attract many visitors. The town is regarded as one of the safest in the country and foreign visitors that enter the country in hope of a tranquil time often head for Jacmel. Its urbanization has been increasing in large part due to the income generated by tourism. Royal Caribbean, the leading tourism company whose cruise ships regularly dock at Labadee, plans to add stopovers at Jacmel. In February 2007, Edwin Zenny became the town's newly elected mayor. In addition, the Jacmel Film Festival is held there annually. On January 11, 2010, Choice Hotels announced they would open a 120-room Comfort Inn in Jacmel, the first chain hotel to be opened there in a decade.