La Romana, Dominican Republic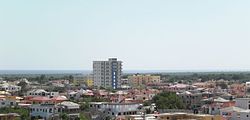 La Romana is the third-largest city in the Dominican Republic with a population estimated in 2010 at 130,426 within the city limits (metropolitanpopulation: 214,109), of whom 127,623 are urban and 2,803 are rural. The city is capital of the southeastern province of La Romana, opposite Catalina Island. The name Romana comes from a balance that was used to weigh merchandise for export. Santa Rosa de Lima is the patron saint of La Romana.
The modern La Romana International Airport was opened in 1999. The city is near several other cities, such as San Pedro de Macorís and the national capital, Santo Domingo de Guzmán. The city is a hub for a growing tourist industry with several nearby local resort spots, such as the beachfrontBayahibe, Dominicus, Casa de Campo, and the growing number of golf resorts that surround the area.