Norwich, CT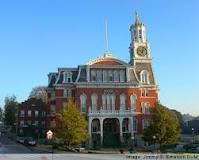 Norwich, known as 'The Rose of New England', is a city in New London County, Connecticut, United States. The population was 40,493 at the 2010 United States Census. Three rivers, the Yantic, the Shetucket, and the Quinebaug, flow into the city and form its harbor, from which the Thames River flows south to Long Island Sound.
Norwich was founded in 1659 when settlers from Old Saybrook, Connecticut purchased land from Chief Uncas, leader of the Mohegan Native American tribe. In the 19th century, Norwich came to be known as a manufacturing city because of its many large mills.
Norwich was founded in 1659, by settlers from Old Saybrook led by Major John Mason and Reverend James Fitch. They purchased the land that would become Norwich from the local Native American Mohegan Tribe. In 1668, a wharf was established at Yantic Cove. Settlement was primarily in the three-mile (5-km) area around the Norwichtown Green. The 69 founding families soon divided up the land in the Norwichtown vicinity for farms and businesses.