San Juan, Puerto Rico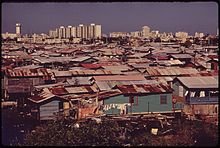 San Juan (/ˌsæn ˈhwɑːn/; Spanish pronunciation: [saŋ ˈxwan], Saint John) is the capital and most populous municipality in the Commonwealth of Puerto Rico, an unincorporated territory of the United States. As of the 2010 census, it had a population of 395,326 making it the 46th-largest city under the jurisdiction of the United States. San Juan was founded by Spanish colonists in 1521, who called it Ciudad de Puerto Rico ("Rich Port City"). Puerto Rico's capital is the second oldest European-established capital city in the Americas, after Santo Domingo, in the Dominican Republic. Several historical buildings are located in San Juan; among the most notable are the city's former defensive forts, Fort San Felipe del Morro and Fort San Cristóbal, and La Fortaleza, the oldest executive mansion in continuous use in the Americas.
Today, San Juan is the Puerto Rico's most important seaport, and is the island's manufacturing, financial, cultural, and tourism center. The population of the Metropolitan Statistical Area, including San Juan and the municipalities of Bayamón, Guaynabo, Cataño, Canóvanas, Caguas, Toa Alta,Toa Baja, Carolina and Trujillo Alto, is about 2 million inhabitants; thus, about half the population of Puerto Rico now lives and works in this area. San Juan is also a principal city of the San Juan-Caguas-Fajardo Combined Statistical Area. The city has been the host of events within the sports community, including the 1979 Pan American Games, 1966 Central American and Caribbean Games, events of the 2006, 2009 and 2013 World Baseball Classics, the Caribbean Series and the Special Olympics and MLB San Juan Series in 2010.