Varadero, Cuba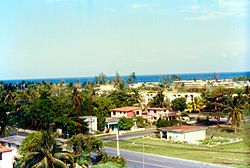 Varadero (Spanish pronunciation: [baɾaˈðeɾo]) is a resort town in the province of Matanzas, Cuba, and one of the largest resort areas in the Caribbean.
Varadero is foremost a tourist resort town, boasting more than 20 km of white sandy beaches. The first tourists visited Varadero as early as the 1870s, and for years it was considered an elite resort. In 1910 the annual rowing regatta was started; five years later the first hotel, named Varadero and later Club Nautico, was built. Tourism grew in the early 1930s as Irénée du Pont, an American millionaire, built his estate on the peninsula. Many famous and infamous people stayed in Varadero, for example Al Capone.
After the Cuban Revolution in 1959, many mansions were expropriated from their rich owners. These mansions soon became museums. As a symbol of the new integrated tourism for Cubans and foreign visitors of all social classes, the Park of the 8000 Cubicles (Parque de las 8000 Taquillas) was built in 1960. Visitors could leave their belongings in the basement of the park, had access to sanitary installations and gastronomic services on the first floor, and could rent bathing articles and swimsuits. The surroundings of the park became the center of the city. Between the 1960s and 1980s Varadero transformed itself into a cultural centre. During those years the central park (8000 Taquillas) (located between 44th and 46th Street) saw countless concerts, festivals and sporting events.